News & Events
Tickets are Now Available for Purchase for the 16th Annual Cincinnati Canstruction Awards Gala
Join the celebration where we will announce the winners of the 2013 competition.  Purchase tickets here.
Cincinnati Canstruction Announces Jurors for the 2013 Competition
Cincinnati Canstruction has announced the names for this year's jury who will determine the winners of the local competition:
Kurt Reiber – Freestore Foodbank
Richard Miller – American Council of Engineering Companies, Southwest Ohio Region
Amy Ostigny – Amy Ostigny Company
Barbara Hauser – Procter & Gamble
Ilene Ross – 513 Eats
Marilyn Wade – The Rookwood Pottery Company/The Relish Restaurant Group
Eli Meiners – 21-c Museum Hotel
Jurors will travel to all of the site locations the afternoon of Wednesday, February 20th to view the structures and determine winners in the categories of Best Meal, Best Use of Labels, Structural Ingenuity and Jurors' Favorite.  Winners will be announced at the Awards Gala on Friday, February 22, 2013.
Canstruction Press Information for 2013
Cincinnati Canstruction Winner Receives National Runner-Up Recognition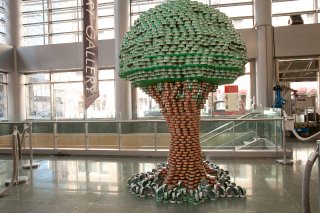 It's official!  "CANopy", our local Structural Ingenuity winner from the Hixson Architecture Engineering Interiors team has been named runner-up in the 2012 Canstruction International competition.  Over 100 entries were submitted internationally in this category.  Read the entire press release here.  Congratulations to Team Captain Rob Krimple and the entire Hixson team on a job well done!